Roto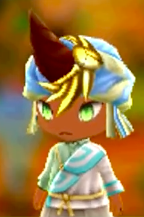 Playable Character / Ally
Pellet, Bugdefense+, Cure
"A cheerful, good-natured boy. He is interested in growing vegetables.."
Roto 
is a character in 
Ever Oasis
 . He is a resident of the Oasis.
Biography
After recruiting
Miura
, Roto can be found in Pottery Cave. As he is too scared to go near the Sharkobra, he requests the player to defeat it for him. Afterwards, Roto joins your party, and stays until the end of Pottery Cave. He then reveals his reason for needing an escort; missing vegetable seeds. Roto thanks the player, and visits the Oasis the next day.
Personality
Roto has shown to be a huge fan of raising vegetables, and this is reflected in his Bloom Booth and his quests. Overall, he's a cheerful and outgoing seedling. He seems to be quite knowledgable as well, as he was the only Seedling in the Oasis to know of Baastu's existence. 
Related Quests
Roto is linked to the following quests:
Grow Vegetables

Love Those Veggies

A Love Too Great
Trivia
Ad blocker interference detected!
Wikia is a free-to-use site that makes money from advertising. We have a modified experience for viewers using ad blockers

Wikia is not accessible if you've made further modifications. Remove the custom ad blocker rule(s) and the page will load as expected.